Popular Links on this Website
Nutron2000 / fertilizer formulation
Other links..
Neem Commercial WP Product www.suntec.co.nz/neem_600wp.htm
Neem Home Garden range www.suntec.co.nz/neem.htm
Home Garden Disease Control www.suntec.co.nz/fungicide.htm
Fertilizer and Nutrient Additives (not active) www.suntec.co.nz/hydroponics.htm
Nutron2000+ Edition 3
The world standard in fertiliser formulation software

FEATURES...
| | |
| --- | --- |
| | Able to calculate quantities of salts to dissolve in stock solutions to achieve the required PPM of nutrient elements |
| | Able to calculate the CF of the formula and adjust the formula to any required CF, calculates TDS at CF, also display pH and mMol concentrations |
| | Able to calculate PPM of nutrient elements from given salt concentration, to modify existing formulae |
| | Able to print save and load data |
| | Able to adjust the formula for a given water supply, or different salt element contents. |
| | Salt elements preferences loaded at startup, and uses the complete range of available hydroponic nutrient salts |
| | Able to adjust whole formula for crop growth or environmental changes |
| | Able to adjust to metric or imperial (US and UK) units and measurements |
| | Provides recommendations for nutrient formula, strength, mineral ratios, comparison to sample formulae |
| | Able to obtain ppm from any ratio of 2 or 3 part pre-made nutrient formula. Option to transfer this to 2-part Nutron formula. |
| | Able to enter mMol and uMol of major and micro nutrients rather than ppm. |
| | Able to convert oxides to elements. |
| | CF of 'A' 'B' and additives and all ratios of macro-elements displayed. |
| | Able to predict accumulation of minerals from water supply. |
| | Able to view and print saved reports on screen. |
| | Text display (contextual help) available for all functions. |
| | |
| --- | --- |
| | Avoid your nutrient solution becoming unbalanced over time, with adjustments for solution analysis and foliar analysis. |
| | Extend the useful life of your nutrient formula, make the best use of your fertilisers. |
| | Match your Nutrient formula to your crop uptake. |
| | New soil fertiliser formulation feature expands the software's application to all aspects of commercial horticulture. |
| | Uses advanced new programming features |
| | Includes full illustrated manual with extensive instructions and real life examples |
NEW
| | |
| --- | --- |
| | Fertiliser formulation from up to 10 chemical or biological ingredients and additives, applicable to any horticultural application. |
| | Improved reporting features |
| | Option for on-line registration direct from the software. |
| | Advanced functions from our climate software to predict water and nutrient use |
Credentials...
Developed by experienced graduates in horticulture and hydroponics.
Reviewed and approved by industry experts and winner of a Unitec survey of grower preferences.
Used by consultants, hydroponic, fertilizer and irrigation companies worldwide
We are proud to offer...
Unlimited free, immediate technical support - in the time Nutron2000 has been marketed we have answered each and every customer query to the customer's satisfaction within 24 hours.
Buy Now
Using our secure order form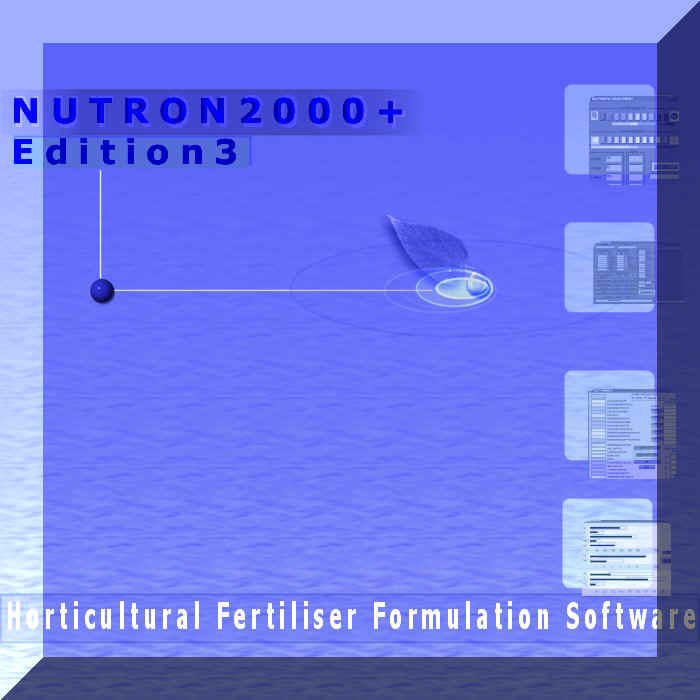 Software CD, Full instruction manual, Unlimited free technical support*
You should read this before purchasing:
Nutron2000+ Edition 3 has mechanisms built into its software to prevent unauthorised copying and distribution. If you plan to distribute this software or copy it please contact the authors to make prior arrangements.
Nutron2000+ Edition3 NZ$ 195.00

Now sent as internet download after purchase.
* Technical support covers all aspects of operating the software. Does not include computer system or hardware support or advice on installation and Windows settings. For horticultural advice contact our consultancy service - links to CONSULTANTS above left.
ALSO!
NEW Greenhouse Climate Engineering Software - View Now
report any threats or suspicious activity on this page to the website developers