Neem 600WP
Commercial Insect Growth Regulator
For control of Greenhouse Whitefly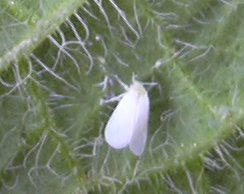 Greenhouse whitefly (Trialeurodes vaporariorum) adult
UPDATE NOVEMBER 2015 - This product has been discontinued, and technical support for it has ended. Registration will cease in 2016.
Label Information and MSDS
PRODUCT INFORMATION
Neem 600WP is a unique wettable powder formulation of neem, which contains active ingredients such as the azadirachtins and salannin from the Indian Neem tree, which affect feeding, and growth and development of insect pests established on treated plants.
Most insect plant pests are extremely sensitive to minute quantities of these compounds which interfere with their hormonal systems and some will not even eat treated leaves preferring to starve instead.
Neem 600WP contains neem kernel powder, optimized for control of whitefly as a growth regulator, on a wide range of ornamental crop plants.
The product also controls caterpillars, aphids and thrips.
Being powder based and oil-free, the product does not pose a risk of spray damage on sensitive plants.
The powder formulation improves the stability of active ingredients during storage and after application.
Neem 600WP is safe for beneficial insects, and assists with the management of IPM programs by reducing pest numbers to below manageable thresholds.
Neem 600WP is essentially non-toxic (LD50 > 2000mg/kg) once sprayed on plants and is safe to use.
The active ingredient does not leave toxic residue on treated crops —there is no MRL.
Insect pests do not develop resistance to products such as Neem 600WP where the full spectrum of neem ingredients are active
INTEGRATED PEST MANAGEMENT of GREENHOUSE WHITEFLY
Neem 600WP acts to prevent larval stages developing from 1 instar to the next.
There are 4 larval stages in Whitefly.
Timing of applications needs to be determined by monitoring numbers of nymphs on the undersides of leaves.
Whitefly eggs are laid on the newest leaves, and these eggs then take approximately 14 days to hatch and develop to the second instar stage at which point they are readily visible.
When nymph numbers reach a threshold level, of 10 to 20 per leaf a programme of four applications of Neem 600WP at 7 day intervals should commence to reduce numbers of nymphs to below the threshold.
These applications should be interspersed with two applications of a fast acting knockdown insecticide with short residual life to eliminate any adults which may be present, one at the start of the programme and the other 21 days later.
Numbers of nymphs per leaf should be monitored at weekly intervals during this spray program, and if adequate control is not being achieved the timing of sprays should reduce to every 3 days.
This 28 day programme should bring whitefly populations down to manageable levels for Encarsia or other biological controls to be re-introduced
Selected Product Data
Efficacy
Effects compared to Industry Standard
Stability
Efficacy at different application rates of New Product and Following Simulated 2 year shelf life (Crop and Food Research 2005)
Safety

Acute Oral toxicity (Rat) LD50 >2000mg/kg (NON TOXIC)

Acute Dermal Toxicity (Rat) LD50 >2000mg/kg (NON TOXIC)

Inhalation Toxicity Neem technical active (Rat) LD50>2.11 mg/l (NO INHALATION HAZARD)

Eye Irritation (Rabbit) Mild irritant to conjunctiva

Dermal Irritation (Rabbit) NON-IRRITANT

Skin Sensitization (Guinea Pig) NON SENSITIZER

All additives to the above formulations are now on the GRAS register of safe to use products.
Crop Safety
Extract from Plant Safety Data Package.
"...
| | |
| --- | --- |
| | At recommended and moderate application rates no adverse effects can be attributed to the product Neem 600WP. |
....
| | |
| --- | --- |
| | The maximum number of applications of Neem 600WP should be four at 10 g per litre when the spray residue is not removed from the plant between applications, to avoid excessive spray deposit and any significant effect on plant growth..." |
Request more information (please be specific)
Suntec NZ Ltd
P O Box 41
Tokomaru 5450
New Zealand
phone 64 6 3298142
fax +64 6 3298041
email suntec@suntec.co.nz
phone or text for ...
Technical Support, Distributor Information or in Case of Emergency 027 4796143
Registration Conditions
1 The product must be manufactured in accordance with the ACVM Standard for Good Manufacturing Practice and to the chemistry and manufacturing specifications provided by the registrant and approved as part of the registration.
2 The product must only be sold or imported according to the current registration
3 If the product is used on any food producing plant or on or around any plant not used to produce food:
Other than those specified on the current registration; or
in a manner not specified in the current registration,
The user must ensure the residues of any substance in the product that may occur in plant material produced from the plants treated, or in animal material produced from grazing or direct feeding of the plants treated to food producing animals, do not exceed the lesser of either:
the specified residue limit in the current New Zealand (Maximum Residue of Agricultural Compounds) Food Standard and any subsequent amendments; or
the default maximum residue limit in the current New Zealand (Maximum Residue of Agricultural Compounds) Food Standard and any subsequent amendments, when a maximum residue limit for that substance has not been specified.
4 Ongoing obligations:
The registrant must provide an annual summary of adverse events to the ACVM Group. Adverse events which have serious implications for the continued use of the product must be notified immediately. The registrant must also advise the ACVM Group of any new studies or data that contradict the information previously supplied.
5 Plant Compound: In additition to any labelling, advertising or promotion requirements specified in the current registration, labelling, advertising or promotion of the product must comply with the current ACVM - New Zealand Labelling and Advertising Guide for Plant Compounds Requiring Registration
6 The product may be used on any plant
report any threats or suspicious activity on this page to the website developers