Specialty Publications for Commercial Horticulture
Fresh Culinary Herb Production . Hydroponic Strawberry Production . Hydroponic Tomato Crop Production
Hydroponic Salad Crop Production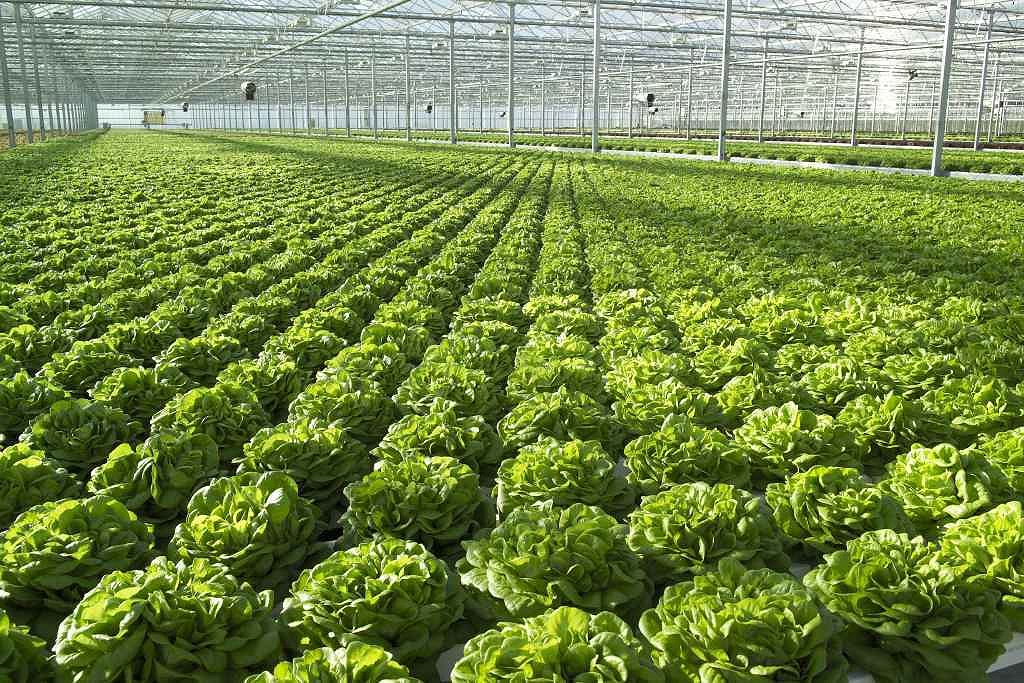 Hydroponic production of salad crops results in 'year round production of quality greens, free of any contamination and grown and packed under optimum conditions to maximise consumer appeal.
Lettuce crops continue to dominate hydroponic salad production in volume, and this book encompasses all of the most recent developments, scientific findings, and research and grower experience to present the definitive information on hydroponic lettuce production.
As discerning consumers become more sophisticated, the variety and selection of what constitutes a salad becomes broader, and hydroponic salad now encompasses much more than just simple lettuces. Hydroponic Salad Crop Production therefore describes the varieties and production essentials of all currently produced salad and microgreens, while realising this is a market that is sure to evolve.
As hydroponic production becomes more widely accepted and adopted around the world, growers need to consider carefully the different options for system and plant variety in order to produce economic yields. This analysis is carefully presented throughout the book in an easy to understand format.
With contributing authors renowned for their professional involvement in commercial hydroponic production, Hydroponic Salad Crop Production is sure to become a valuable guide for anyone interested in these important crops.
Click Order Now below to buy your copy NZ$105.50 includes postage worldwide
Hydroponic Tomato Crop Production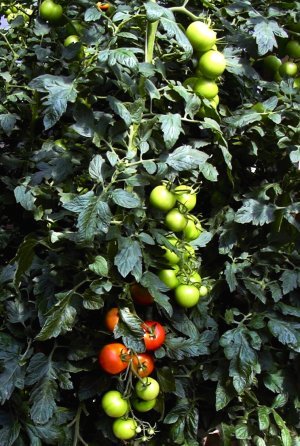 Dr Lynette Morgan PhD
In this superb specialist publication, Dr Morgan pieces together a wealth of worldwide scientific research findings, grower experience, management expertise, and up to date technical information on every conceivable topic relevant to modern commercial greenhouse tomato production, and presents it in her delightful easy-reading style making it all readily understood by a wide audience.
Growers, scientists, academics, merchants and anyone involved in commercial hydroponic tomato crop production anywhere in the world, will benefit from the information presented in Dr Morgan's latest book.
This book is sure to set the standard for publications on this topic for years to come.
Contents
The tomato plant, introduction and history, health benefits, history of greenhouse cultivation, hydroponic tomato fruit markets, cultivars, world production statistics, future production, yields and potential.
Types of tomato, determinate vs indeterminate cultivars, hybrids vs open pollinated,, commercial greenhouse types and cultivars, heirloom types, cultivar selection, disease resistance and codes, seed suppliers.
Protected environments for tomato production – the tomato environment, temperature, heating, cooling, humidity, VPD, light, CO2, O2, outdoor environments.
Hydroponic systems for commercial tomato production – solution culture, flood and drain, growing substrates and their properties.
Organic hydroponic tomato production, certification, allowable inputs, nutrients, P&D control.
Heirloom Tomato production
Tomato nutrition, nutrients, solution concentrations and adjustments, and factors that affect nutrient uptake in tomato crops. water quality, nutrient formulation, solution analysis examples, leachate sampling, nutrient and foliar mineral level interpretation, Nutrient management, nutrient deficiencies and toxicities, pH, irrigation management, deficit irrigation, irregular watering, foliar sprays
Tomato propagation – cultivar selection for disease resistance and characteristics, temperatures determine flower numbers, GE, long shelf life cultivars
Systems of production – determinate vs indeterminate, limited truss, long term layering, intercropping, second head, split head systems, leaf pruning, leaf plucking, lower leaf removal, LAI, crop training, pruning, support, spacing, layering, vegetative growth, flowering, pollination, fruit set and fruit growth, pollinators, fruit thinning, truss pruning,
Crop steering, environmental control for crop growth, DIFS, pre night drop, cultivar differences, temperatures, root zone heating, cooling, vegetative vs generative crop, side shoot retention and removal, topping, crop removal CO2 enrichment and artificial lighting, humidity
Crop and fruit quality, improvements, flavor, shelf life, quality testing, brix, dry weight, acidity, shelf life, self assessment, taste panels,
Pests, Control options, IPM, sprays, and biological control,
Diseases, Control options, sprays, and biological control
Physiological disorders,
Non biotic disorders,
Harvesting, post harvest handling, packaging and storage, ripeness stages, effects on flavor and quality,
References
Index/appendices
Features:
275 pages packed with up to date information sourced from scientists and expert growers worldwide
Full colour illustrations throughout, softcover.
Listed on CAB DIRECT
Click Order Now below to buy your copy NZ$105.50 includes postage worldwide
Hydroponic Strawberry Production
Hydroponic strawberries are a profitable and rewarding crop to grow, but also a crop which needs to be fully understood if economic yields are to be obtained from out of season production.
Understanding of the plant's development and specific requirements and attention to
| | |
| --- | --- |
| | selection of the correct cultivar, |
| | suitable pre plant treatments, |
| | type of propagation and planting material, |
| | hydroponic media and system, |
| | crop nutrition, |
| | climate and environment, |
| | planting density, |
| | pollination methods and |
| | pest and disease control |
are all necessary if an economic commercial crop is to be produced.
As conventional strawberry producers and extensive field operations are experiencing difficulties with the ban on widely used soil sterilisation chemicals, hydroponic strawberry production is becoming a logical alternative.
Hydroponic strawberry production will prove a valuable guide for all intending and existing growers of this increasingly important hydroponic crop.
A Suntec NZ Ltd Publication
CONTENTS
Page Chapter
1 Background to Soilless Strawberry Production
8 The Strawberry Plant – Growth Form, Types, Cultivars and Physiology
14 Protected Environments for Hydroponic Strawberry Production
27 Hydroponic Systems for Commercial Strawberry Production
47 Commercial Strawberry Production
51 Strawberry Nutrition
63 Strawberry Propagation
66 Vegetative Growth, Flowering, Pollination, Fruit Set and Fruit Growth
73 Strawberry Fruit Quality and Flavor
78 Pests and Diseases of Hydroponic Strawberries
99 Harvesting, Post Harvest Handling, Packaging and Storage
105 References
112 Index
Click Order Now below to buy your copy NZ$76.50 includes postage worldwide
Fresh Culinary Herb Production
By Dr Lynette Morgan
Fresh culinary herbs are one of the fastest growing markets for gourmet produce on a worldwide scale. The requirement for year round production of this diverse range of crops has seen the development of many commercial greenhouse herb growing operations. With high quality fresh herb crops providing lucrative returns for many growers, new technology—hydroponic and organic production methods, has been adopted to push yields and quality to maximum levels.
Crop production factors such as hydroponic, soil and organic systems, nutrient formulations, propagation, production planning, recommendations from nutrient and foliar analysis, environmental control, harvesting, post-harvest storage and handling, and pest and disease control, are all covered in easy-to-understand language.
With experience as a commercial hydroponic grower, international consultant and researcher, the author provides new technical information on the cultivation of many herb species, as well as outlining the basics of commercial herb production. Growers of all levels of experience will find this technical guide easy to follow, with many coloured illustrations and referencing to information sources.
"Fresh culinary herb production is a technical and scientific guide that no commercial herb grower should be without"
A Suntec NZ Ltd Publication
CONTENTS
1 Introduction to Commercial Herb Production
4 Herb Propagation
13 Soil Cultivation of Herb Crops
15 Hydroponic Systems for Herb Production
20 System Engineering for Irrigation and Greenhouses
24 Organic Greenhouse Production Systems for Herb Crops
30 Plant Nutrition and Hydroponic Nutrients
33 Pests and Diseases of Herb Crops
50 Crop Production
· (50) Sweet Basil
· (58) Cilantro
· (63) Chives and Garlic Chives
· (68) Mint
· (72) Dill and Fennel
· (75) Marjoram and Oregano
· (78) Parsley and Chervil
· (81) Rosemary
· (84) Sage
· (87) Tarragon
· (91) Thyme
· (94) Kaffir Lime
· (94) Lemongrass
· (95) Lemon Balm
· (96) Bay
· (96) French Sorrel
· (97) Savory
· (99) Arugula
· (100) Recao or Culantro
· (101) Epazote
· (103) Chilli pepper varieties
· (106) Wasabi
· (112) Perilla
114 References
Click Order Now to buy your copy NZ$76.50 includes postage worldwide
Overseas Distributors:
Worldwide:
Amazon (supplied by Farmtek USA)
USA and Canada
UK
Mexico, Central and South America:
Mexican Hydroponic Association
Australia
report any threats or suspicious activity on this page to the website developers